Blog
Reserve now for our Special Collaborative Evening with Diane Kochilas- December 15th!
Dec 7, 2015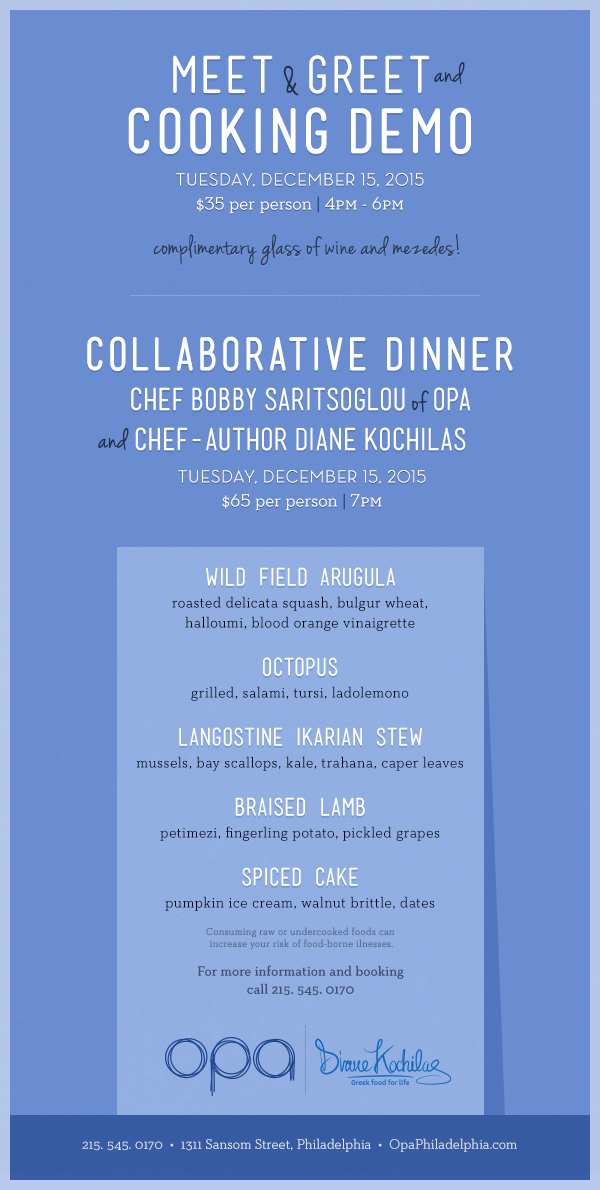 Celebrate Dad at Opa on Father's Day 2015!
Jun 17, 2015
Join us this Sunday, June 21st for a delicious meal!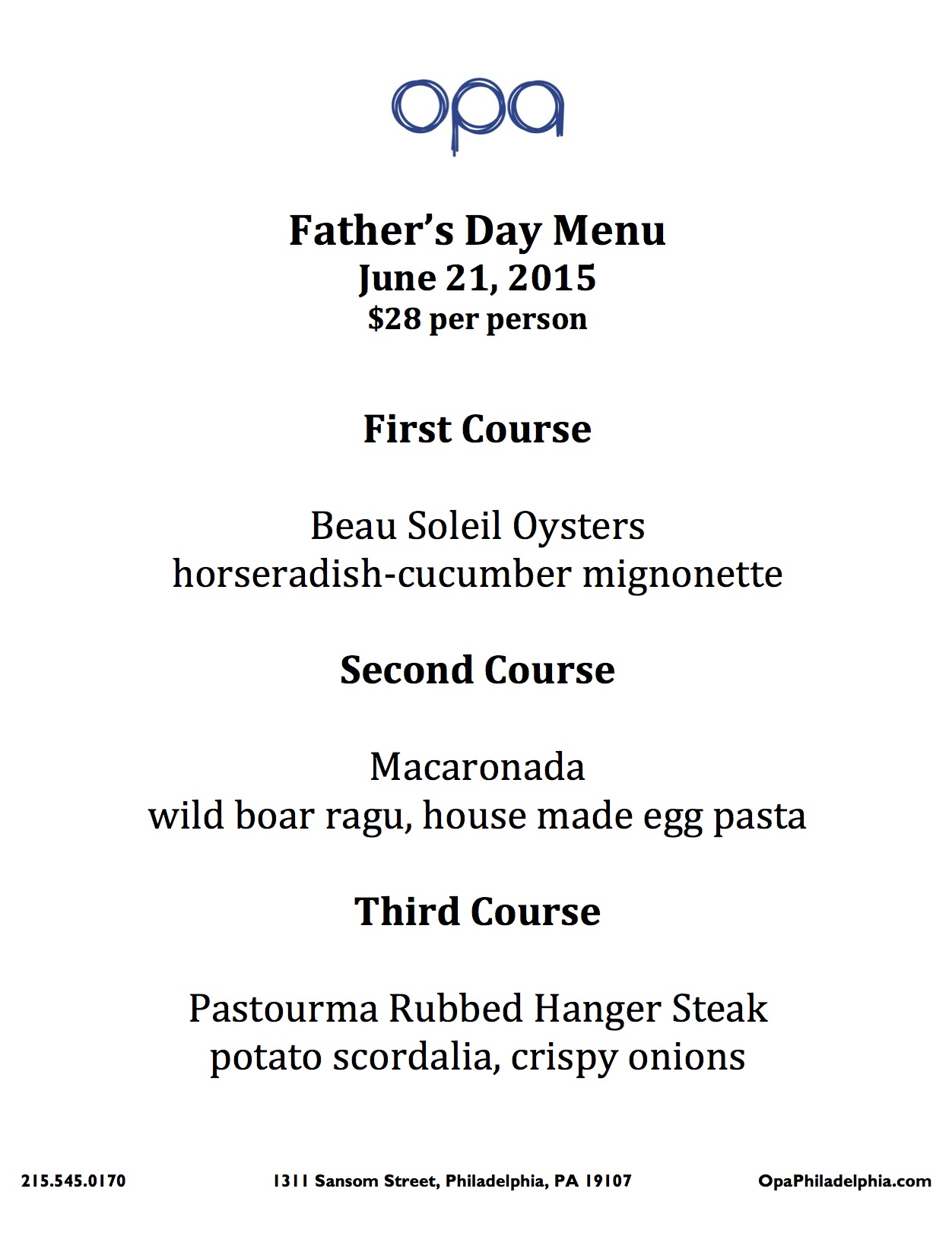 ---
Call 215.545.0170 or click here.
Welcome Chef Bobby!
Mar 13, 2015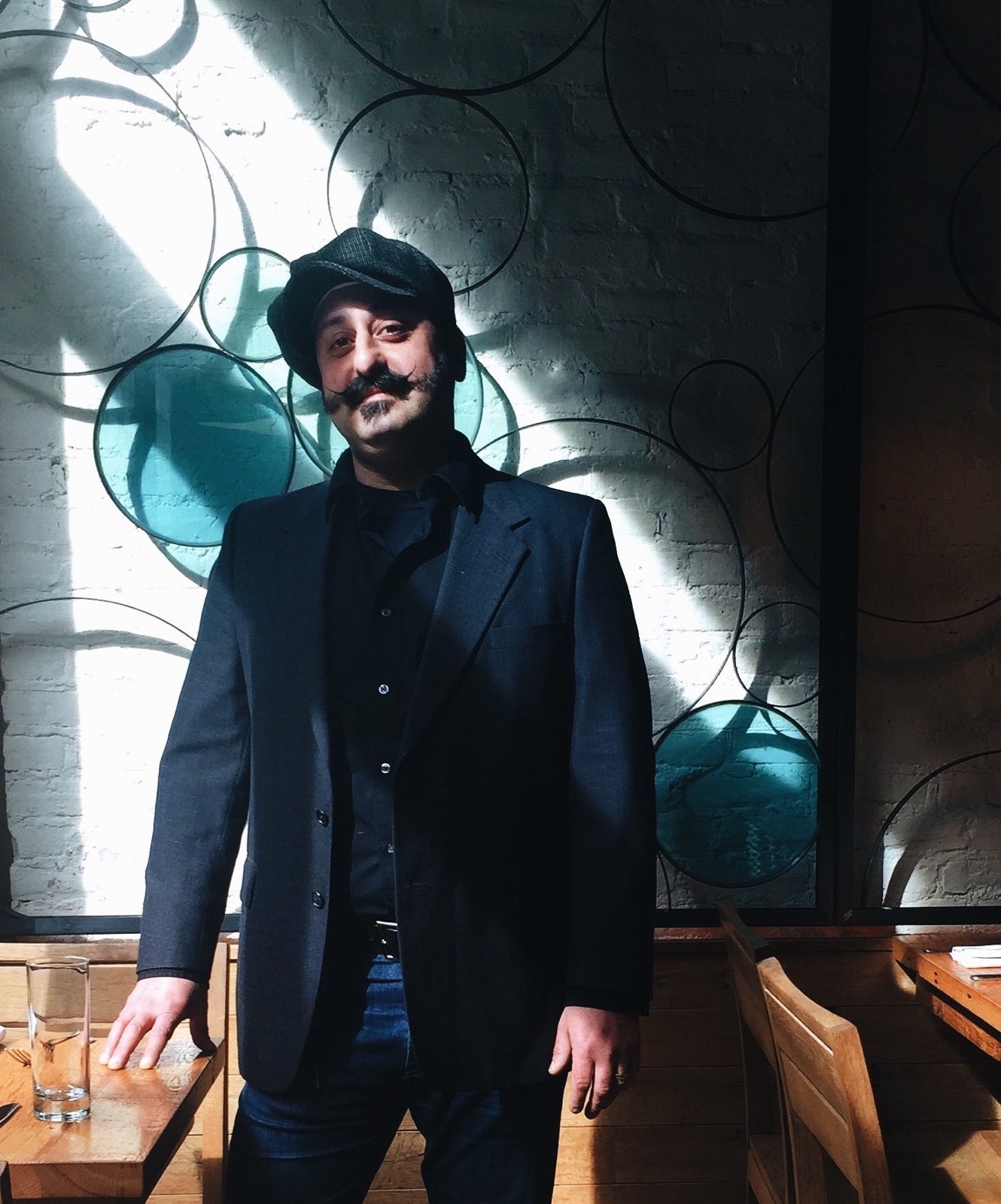 This week, my sister Vasiliki and I welcomed Bobby Saritsoglou, a fellow Greek-American, to Opa as Executive Chef. In the coming weeks, Bobby will work on evolving the menu for Opa and, later, for Drury Beer Garden. His most recent and impressive work at Santucci's Restaurant along with his experience in various well-regarded kitchens in Greece, make him a great fit for Opa. We know he is going to bring a great energy and dedication to our restaurant. We're excited to work together to push our menus forward. Bobby plans to debut his new menu in April, so please stay tuned for more exciting details. Kalor irthes Sef Bobby (Welcome, Chef Bobby)!
Make This For Your Next Holiday Party
Dec 11, 2014
Everyone looks forward to holiday parties, including us! So, if you've been put in charge of bringing the appetizer to the upcoming family gathering or friend's get-together, then add some Greek flavors to the celebration with this Melitzanosalata (eggplant) Spread. Serve with pita bread, crackers or fresh vegetables and it's sure to be a hit.
Warning: it's so tasty that you may be nominated again next year!

Melitzanosalata
Ingredients:
- 3 to 4 eggplants
- 1 yellow onion small diced
- 3 to 4 cloves of garlic
- 1/2 cup extra virgin olive oil
- 1/4 cup water
- 2 tbsp. lemon juice
- Salt and pepper to preferred taste
Directions:
Remove the skin of the eggplant and slice into 1" thick pieces. If available, place the sliced eggplant over a hot grill for a few minutes on each side. Finish the eggplant in the oven at 400 degrees for 8 to 10 minutes. Meanwhile add the onion to a large saucepan with a drizzle of olive oil and cook over medium high heat until onions caramelize. Transfer the eggplant to food processor fitted with steel blade. Add the caramelized onions and garlic and pulse to combine. Once nearly pureed and with the food processor running, slowly add olive oil, water and lemon juice in a steady stream through the feed tube. Transfer to a medium bowl and season with salt and pepper to taste. Cover and refrigerate for one hour, then serve.
Labor Day Weekend
Aug 26, 2014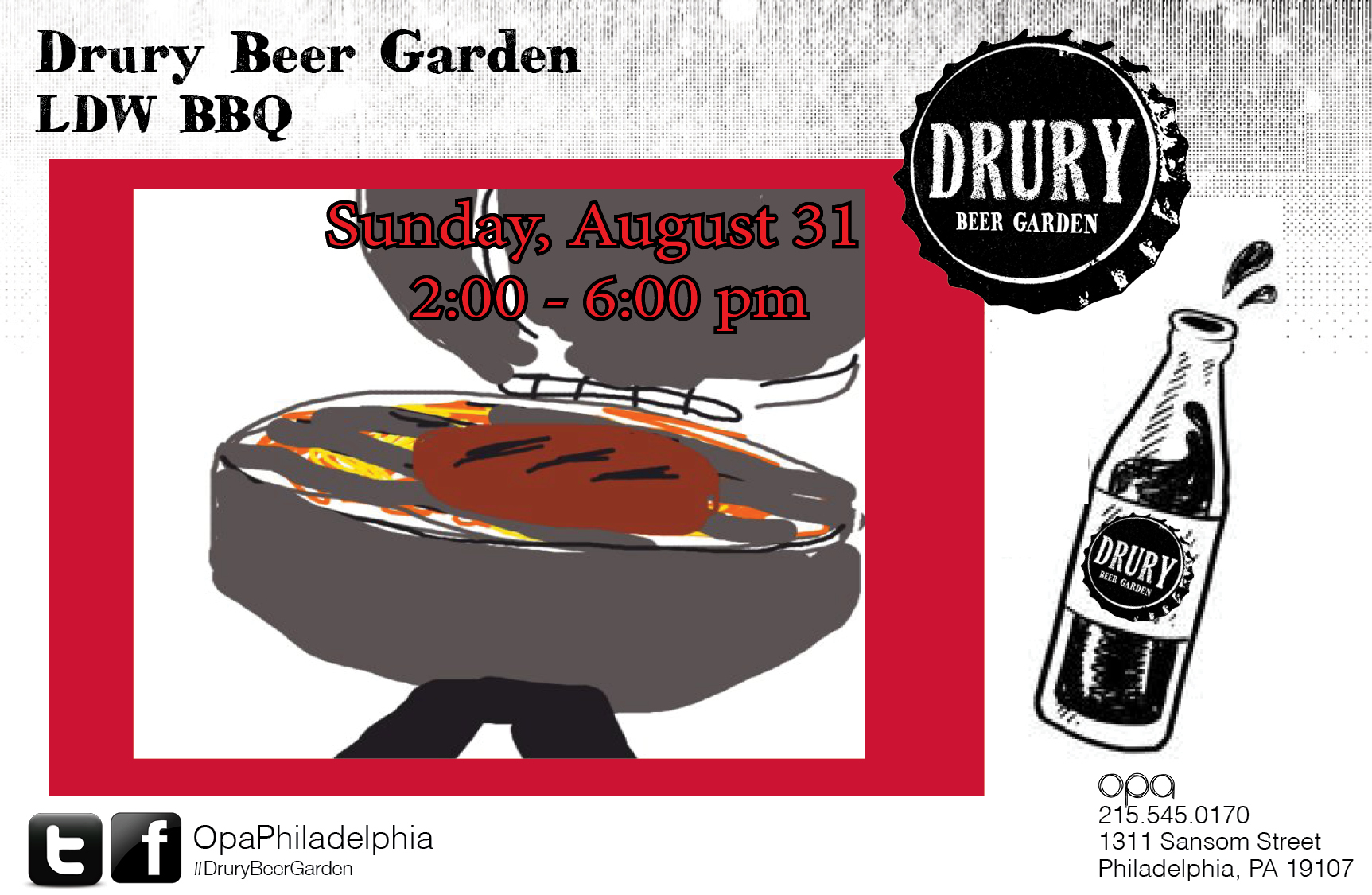 Labor Day Weekend is only a few days away and if you don't have plans yet, we've got an idea for ya!
Come hang with us on Sunday, August 31, when we'll be playing ping pong and barbecuing from 2 p.m. until 6 p.m. in Drury Beer Garden. We will be grilling some up some burgers, hot dogs and other holiday staples. We'll have a few beer and drink specials, too. Hope to see you then!
National Watermelon Day
Aug 2, 2014
August 3rd is National Watermelon Day and this is a favorite at Opa all summer long. If you're around this weekend stop by and celebrate with our Watermelon and Feta salad!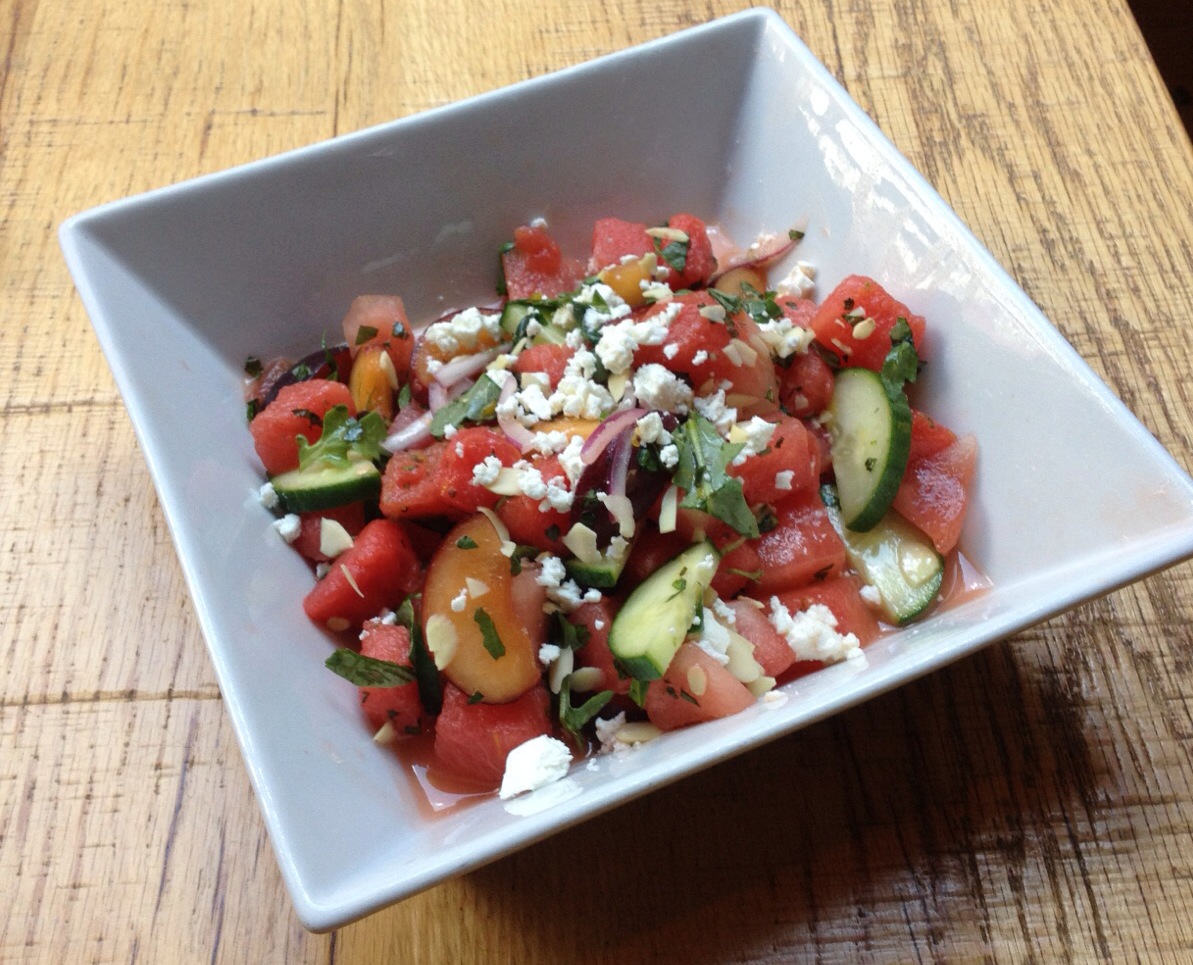 Drury Beer Garden's 2nd Birthday!
Jul 11, 2014
We want to thank you, friends, for hanging out with us over the past two years, for drinking over 1 million ounces of beer, for taking down 3098 chili garlic chicken wings, for devouring 2502 gyros and for each and every day-drinking session you've held with us that may or may not have turned into an all-nighter.
Tomorrow marks our second year at Drury Beer Garden and it's an understatement to say we've been having a great time. It seems like you have been, too, as our table games have been getting a lot of good use…we've brought out 408 tumbling towers, 55 ping pong paddles and 250 pong balls. We hope you'll save us front-row seats when you've finally made it to the World Table Tennis Championships.
So, yes, it's our birthday, but please don't worry about getting us a gift. Just come and have a beer with us and play a little ping pong and toast to more days and nights in Drury Beer Garden.
Fourth of July Weekend
Jul 2, 2014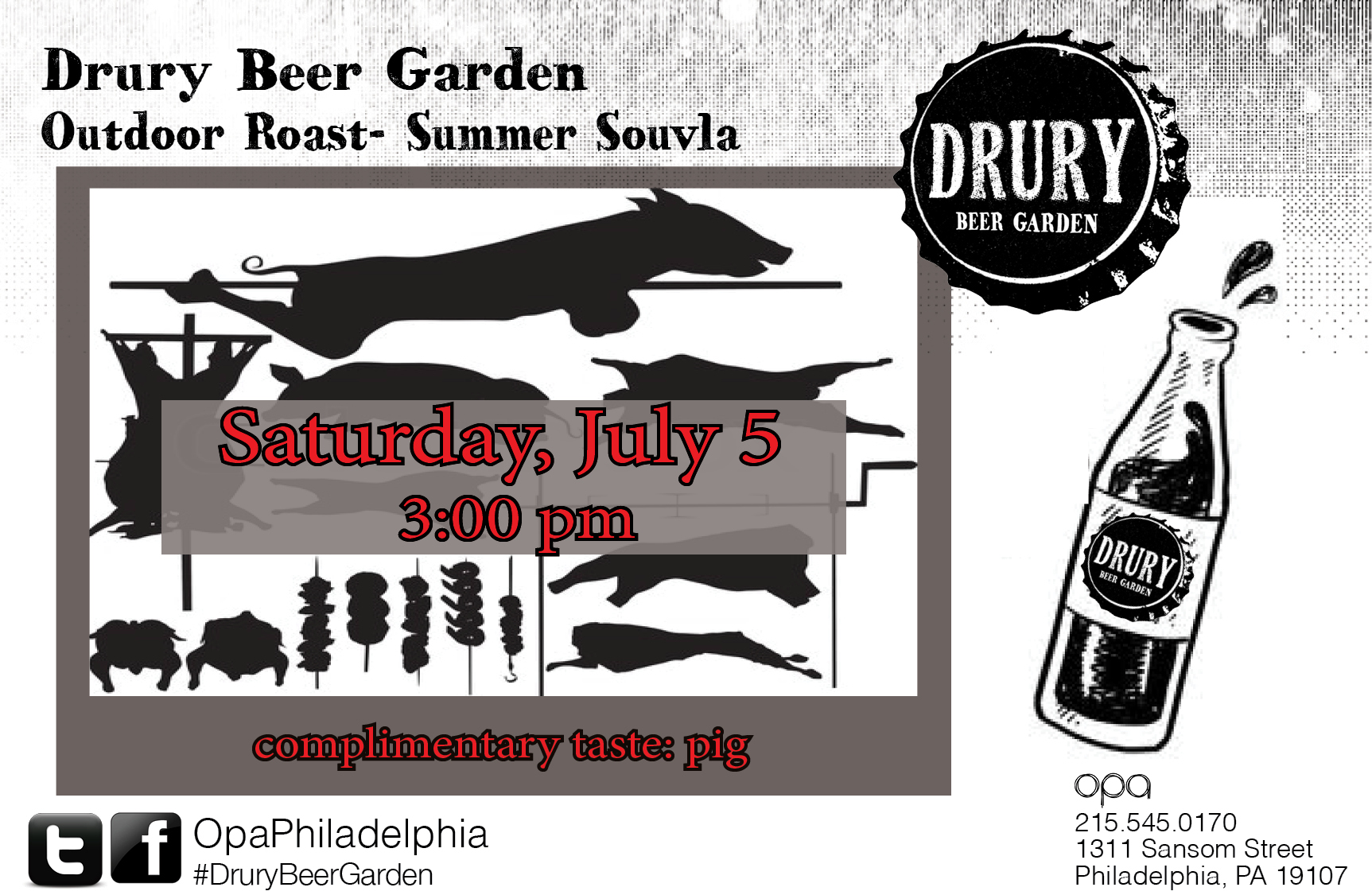 ---
Some of the best vacations and holidays we've had were spent at home with family and friends. If you are enjoying a "staycation" this Fourth of July weekend, why not join us?! We will be open regular hours on Friday, July 4th; and on Saturday from 3 p.m.- 6 p.m., we are hosting our next Summer Souvla, featuring a complimentary pig roast out back in our Drury Beer Garden. Games will be played and we'll have some beer and drink specials. Basically, we'll be having a good time.
Allow us to do the cooking (and cleaning up) for you!
Speaking of summer cooking, we wanted to share one of our favorite simple and delicious recipes for you to throw on your grill this season:
Grilled Vegetables
Ingredients:
Vegetables of your choice (zucchini, eggplants asparagus work well)
Minced garlic
Olive Oil
Salt and Pepper
Method:
Slice vegetable to about in 1/4 inch thickness and set aside. Combine the olive oil, garlic, salt and pepper. Brush the vegetables generously with this mixture. Grill at medium heat, seven minutes each side.
Have a safe holiday and we hope to see you this weekend!
-George and Vasiliki
2nd Summer Souvla in Drury Beer Garden
Jun 21, 2014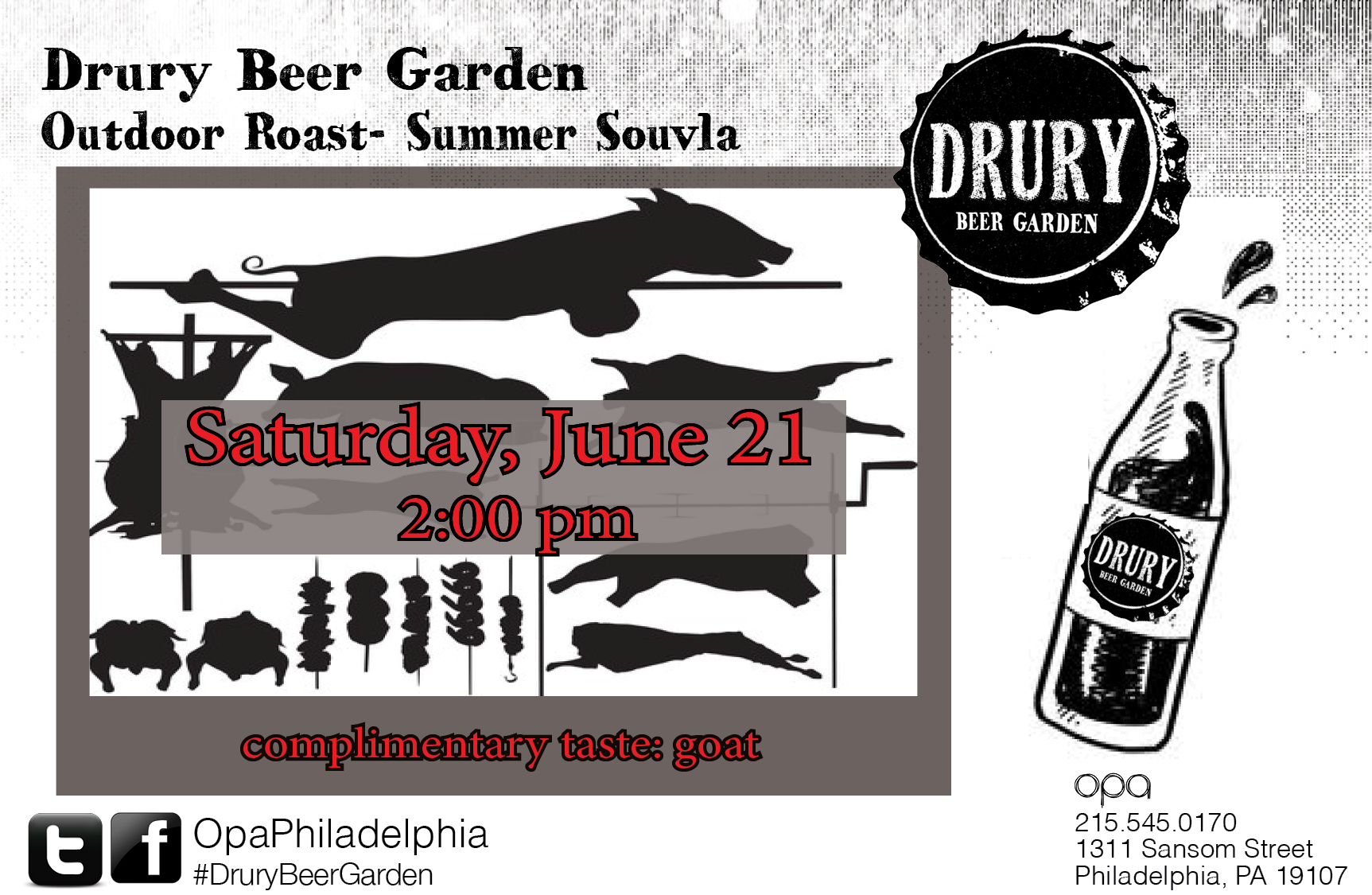 Happy Summer! Our second Summer Souvla, in Drury Beer Garden, is today at 2:00 pm. Celebrate the official start of summer with us while enjoying our goat roast!
Father's Day- #tbt
Jun 12, 2014
Running a restaurant is great fun but hard work, anyone in the industry can tell you that. It's no secret and it's something we learned very early on, thanks to our Dad. So, for this entry, which we are posting only days away from Father's Day, we want to throw it back (it is Thursday, afterall) to our Dad, Efthimios, and our first experiences working in the industry at one of his restaurants.
Around the age of 11, we started working at Continenal Inn, his restaurant in Northeast Philadelphia. As middle-schoolers, math quickly became an easy subject for us as we worked the register under our father's watchful eye, always making sure we did the addition and subtraction in our heads, never allowing us to take the easy way out by hitting the change button.
He showed us a lot in those years. He ran his businesses with grace and it was always touching to see how everyone that worked for him loved him, as well as his customers. Dad was stern but gentle and always remained modest as he worked hard to support his family, showing us that even hard work can be enjoyed, and taught us everything he knew about the restaurant industry.
This Father's Day, as we celebrate the man we look up to, we hope your day will be just as fulfilling. And if you find yourself enjoying a meal and some memories at Opa this Sunday, we thank you and wish all Dads a Happy Father's Day.
-George and Vasiliki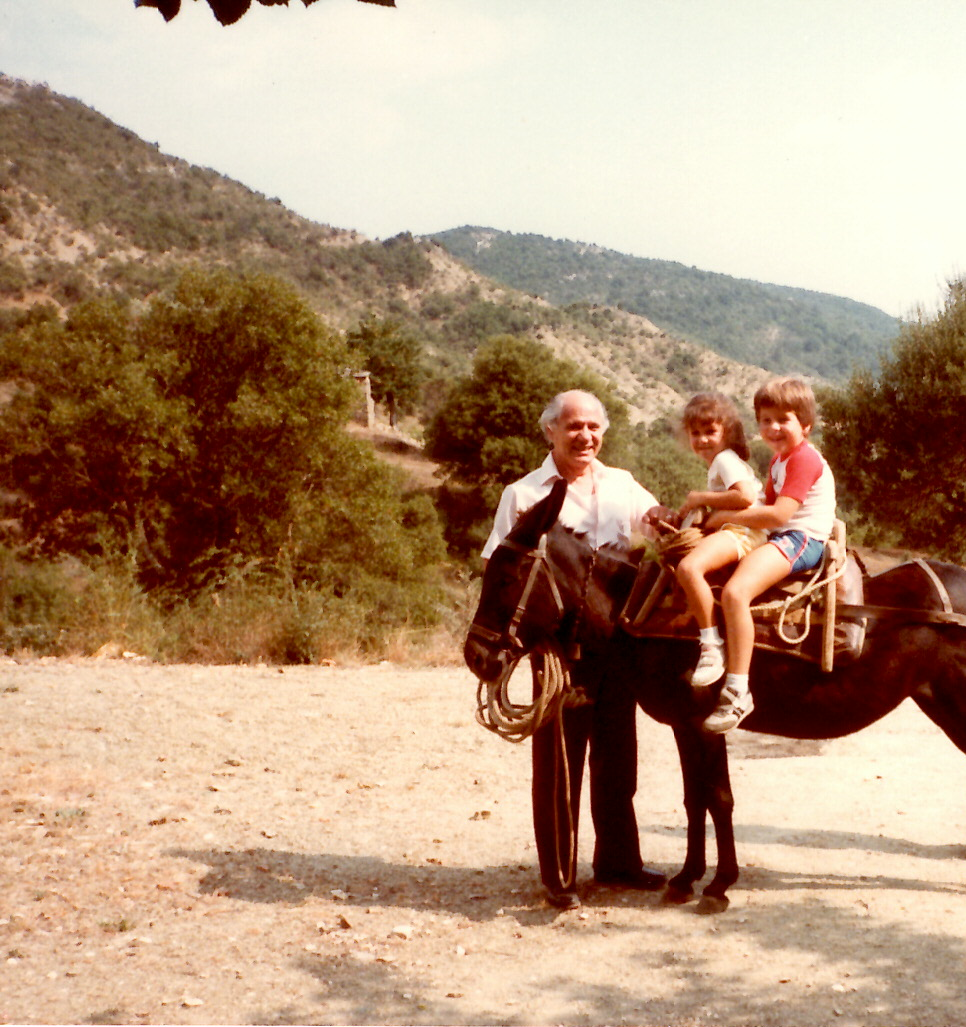 (Us with Dad on one of our family Greece trips)
Philadelphia Beer Week- 2014 Events
May 30, 2014
This is our line up for Philly Beer Week! Join us for our events and meet local brewers, including the Sly Fox Brewing co-founder! Starts today!
Summer Souvla in Drury Beer Garden
May 22, 2014
We are Hosting an Outdoor Roast in Drury Beer Garden for our first Summer Souvla Series on Saturday, May 24 at 3:00 pm. Also in Drury Beer Garden news- we now have weekday lunch outside, M-F starting at noon. Join us and check out why Food and Wine Magazine named us one of "America's Best Beer Gardens"